The beautiful shore of Goa is house to some of the top beaches on the earth and operates as an ideal host for photography. So make your wedding special with a pre-wedding shoot in Goa. When it comes to pre-wedding shoots, we always choose everything like the dress, the location, and the photographer. Since it is a one-time event that stays with us forever, talking about the area, Goa will always be on the top of the list of attractive places.
Goa will not only spark your love but will also provide you with the most beautiful places to shoot your wedding. You can take a relaxing break-even before preparing for a stressful marriage. So, if you are looking for a site that is not only filled with breathtaking views but also full of travel-worthy destinations, don't forget Goa.
Photos speak a thousand words, so don't let your original photoshoot in Goa be yours. The best thing is that you don't need to be a professional. You need a dependable group of shutterbugs who can easily pull off a pre-wedding shoot in Goa. We have eleven pre-wedding shoot locations in Goa, which can perfectly match the pre-wedding aesthetics.
Agonda Beach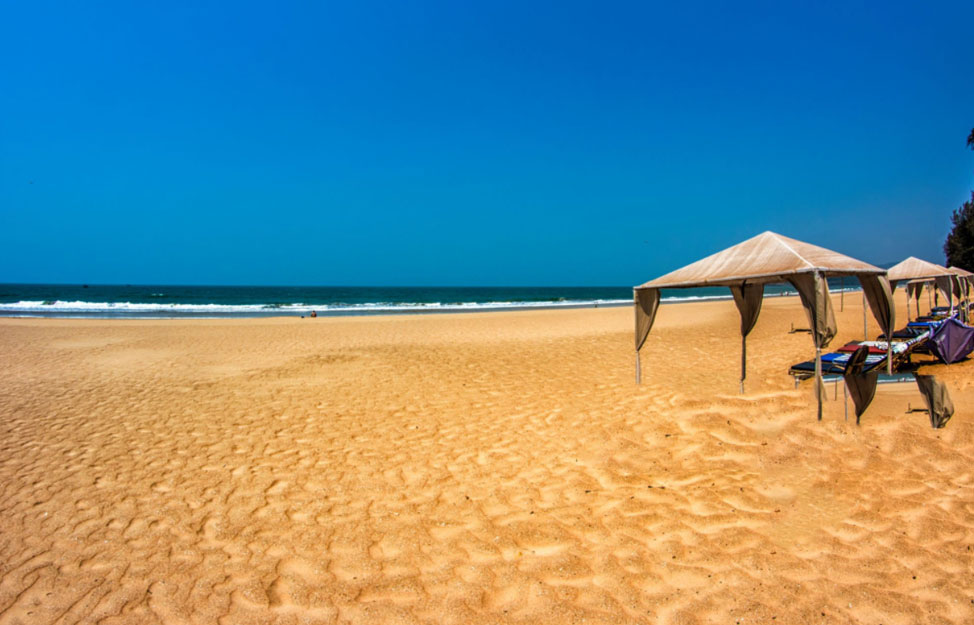 Agonda Beach is located in South Goa and offers you a perfect pre-wed shoot location. The unique place has a carpet of white sand dotted with colorful shacks, giving off authentic Goan vibes. On this part, the Arabian Sea is passionately touching the shores of the glistening beach laden with lush green coconut and palm trees. Agonda beach is famous because it is an attraction widely visited by people for the nesting sites of turtles. So, if you want to have a photoshoot with the best of views, then it can beat all the destinations. Agonda beach is a perfect fit for skyline clicks that can portray your bond's depth.
Baga Beach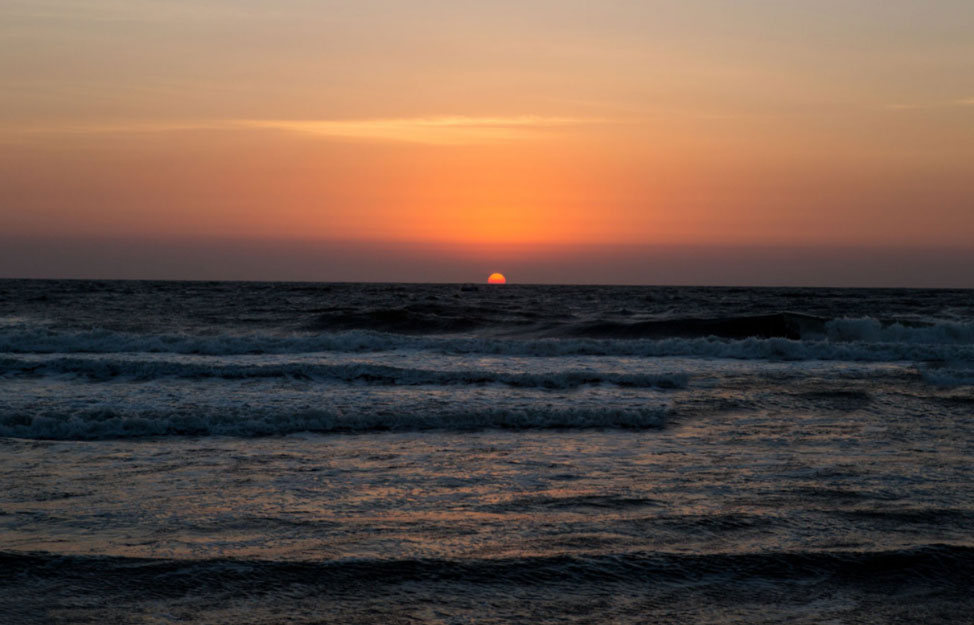 Situated in North Goa, Baga is a famous beach destination that attracts thousands of tourists and water sports buffs. The beach shares its coastline with the environs of Sincrim, Candolim, and Baga, with the Baga beach being more lively and enchanting. If you are with your love, you have to enjoy the nightlife on Baga beach. It is full of night pubs, restaurants, and beach shacks.
Amboli Waterfall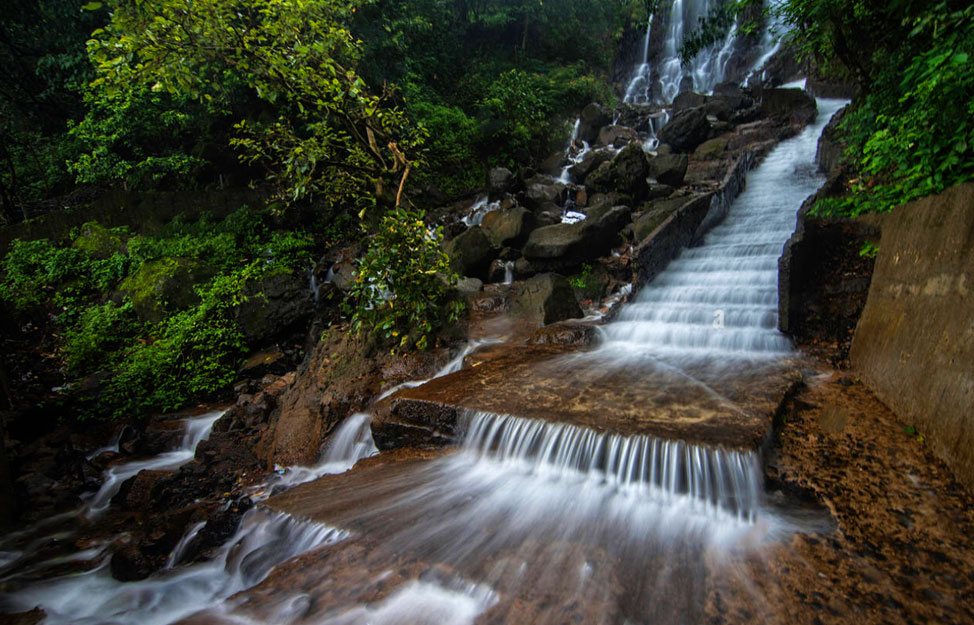 Amboli is another hot spot for pre-wedding shoots in Goa. If you want to enjoy the beauty of Goa, then do not forget to visit this place. It is about 80 kms from Panjim and is very popular for the beauty of its lush green aesthetics. It has the quality of capturing you and your special someone in the most intimate way. Amboli is situated in the Sahyadri Hills of the western part at 690 meters above sea level. It is home to unusual species of flora and fauna and is counted as one of the ecological sites of the world. Amboli Waterfalls is one of Goa's most famous tourist attractions and is visited by many tourists throughout the year.
Fort Cabo De Rama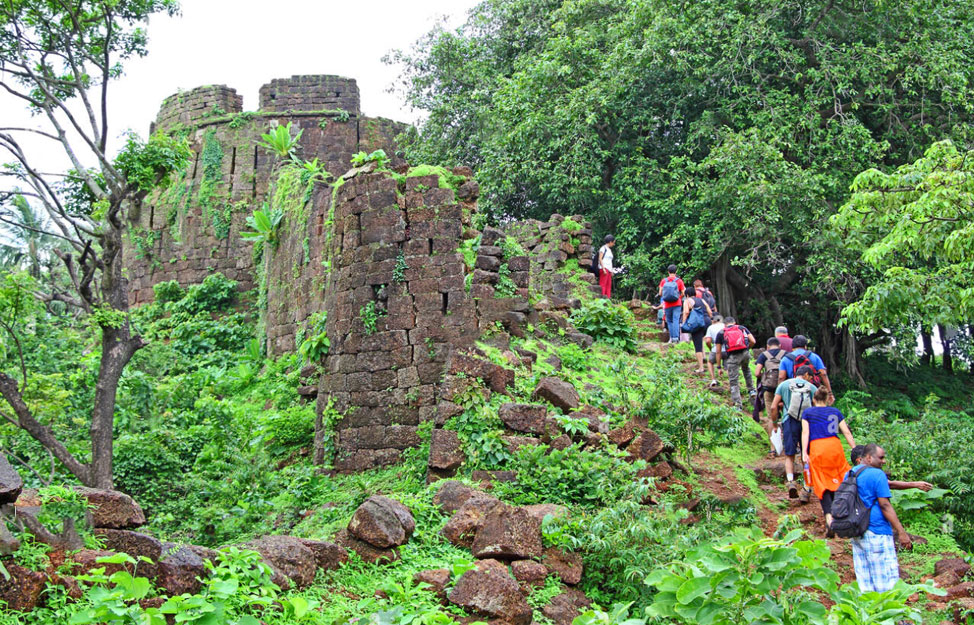 Next on the list of pre-wedding shoot locations in Goa is for those who like to take a break from the city life with their significant other, then imprisoning yourself in an old fort is your thing. It might be possible! And if you are planning to visit Goa, do not miss seeing Fort Cabo de Rama for this perfect wedding shoot. Also, the best thing about this fort is that you can enjoy beautiful beaches with a view of the nearby mountains and eagles.
Weather: 33° C
Location: 30km from Madgaon in South Goa
Tiracol Fort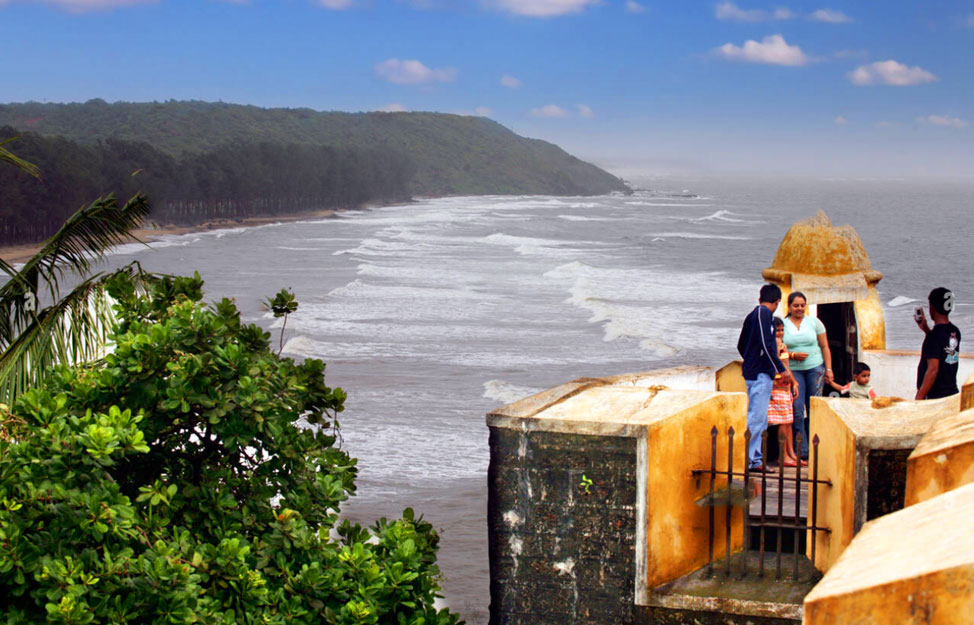 Across the Terekhol River from Querim Beach in North Goa is the majestic Tiracol Fort. This magnificent structure was once an essential part of the maritime defense of the Portuguese colonists. Today this incredible fort serves as the Tiracol Heritage Hotel and offers an unbeatable panoramic view of the Arabian Sea.
The surrounding vegetation adds to the beauty of Fort Tiracol, situated atop the picturesque hill of the North River. Inside the courtyard in the middle of the fort is a beautiful church built during Portuguese rule in the 18th century. The church remains open to the public only during particular events, such as the annual feast in May. A part of the fort is still available to visitors. If you visit Fort Tiracol, you can grab a delicious lunch at the Fort Tiracol Heritage Hotel.
Weather: 33° C
Timings : 9:00 AM – 7:00 PM
Chapora Fort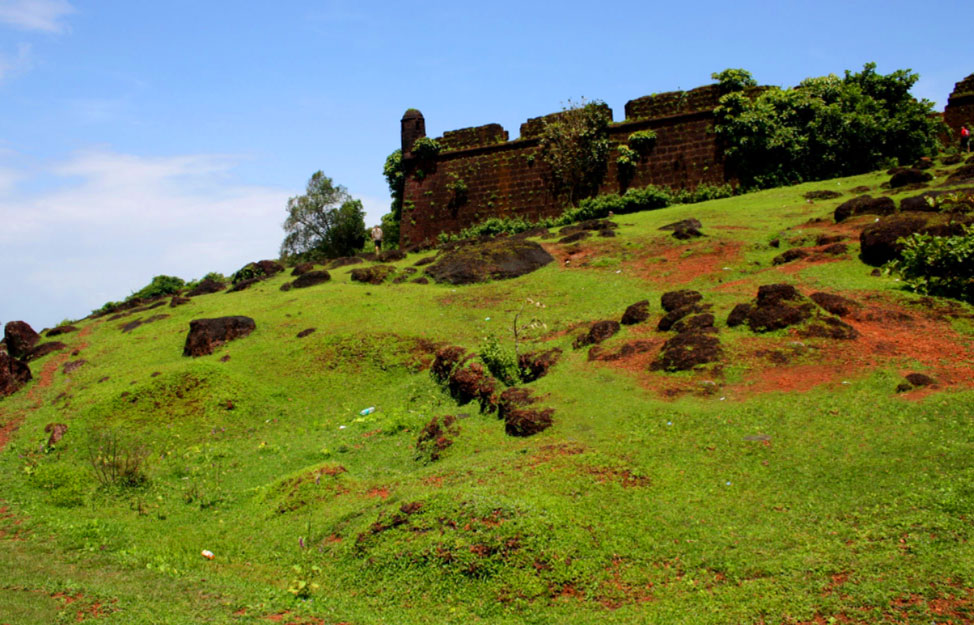 One of the best locations for pre-wedding shoots, Chapora Fort, located on the northern side of Goa, is popularly known as Dil Chahta Hai Fort. You can go and relive those moments yourself. The fort overlooks the Chapora River and is only 700 meters from Vagator Beach. So, whenever you are around, try to manage your time to enjoy both these tourist attractions. Although it is in ruins now, you can still get a rustic photoshoot done with the backdrop of the Arabian sea.
Timings: 9:30 AM – 5:30 PM every day
Time Required: 1-2 hours
Entry Fee: No entry fee
Built-In: 1717
Best Time to Visit: Sunset
Parking: INR 40 for 3 hours
Fort Aguada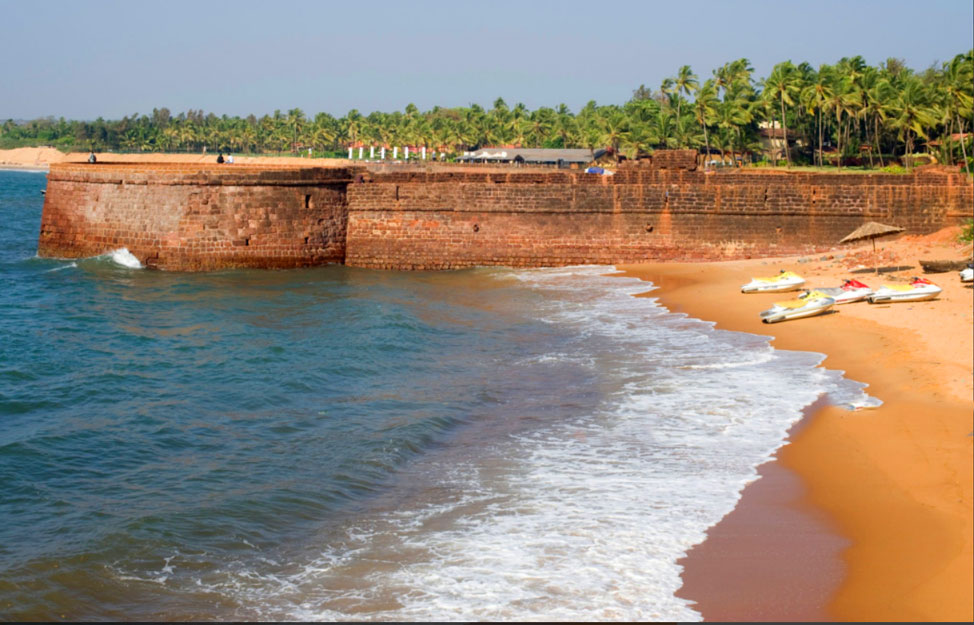 After Amboli Waterfalls, we have the imposing fort of Aguada, which had to be on our list for its enchanting view of the photogenic scenery around. It is a 17th-century Portuguese fort overlooking the confluence of the Mandovi River and the Arabian Sea. Also, this wonderful place has an ancient lighthouse dating back to 1864. This is paired with panoramic views of the Arabian Sea and Mandovi River, making it one of Goa's most spectacular pre-wedding shoot locations.
Timings : 9:30 AM – 6:00 PM
Entry Fee: Free
Built-in: 1612
Location : Sinquerim (Candolim)
Palolem Beach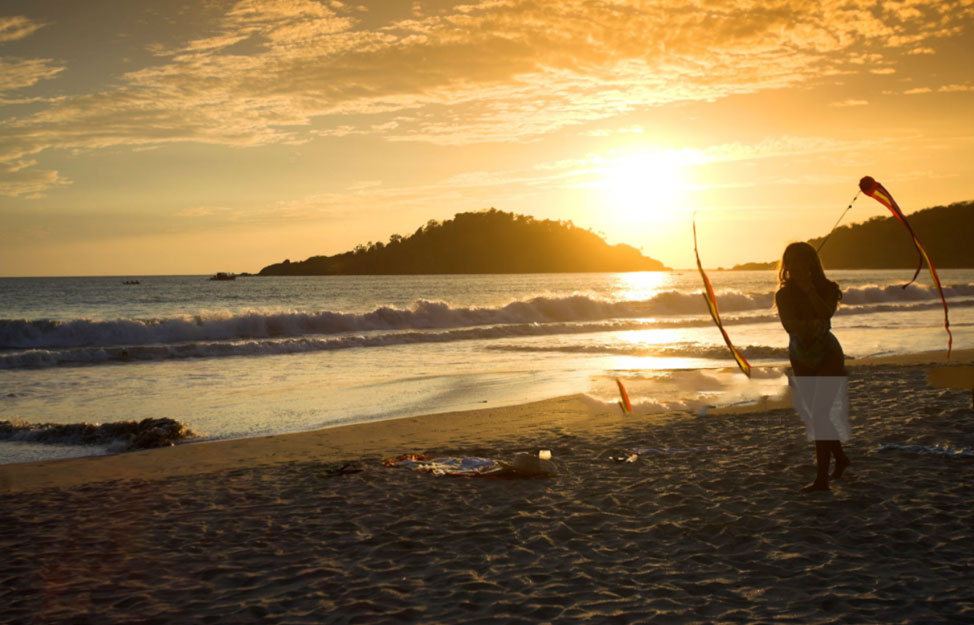 Known as white sand heaven in South Goa, Palolem Beach is about 38 km from Margao in Canacona and is one of the most preferred attractions for travelers visiting Goa. Unlike some of the famous beaches in Goa, Palolem Beach is known for its calm and peaceful vibes. The main attraction of Palolem Beach is the dolphin-spotting cruise. If you are looking for a place like a party hub, this could be the place for you. Palolem Beach is known for its party life.
Latin Quarter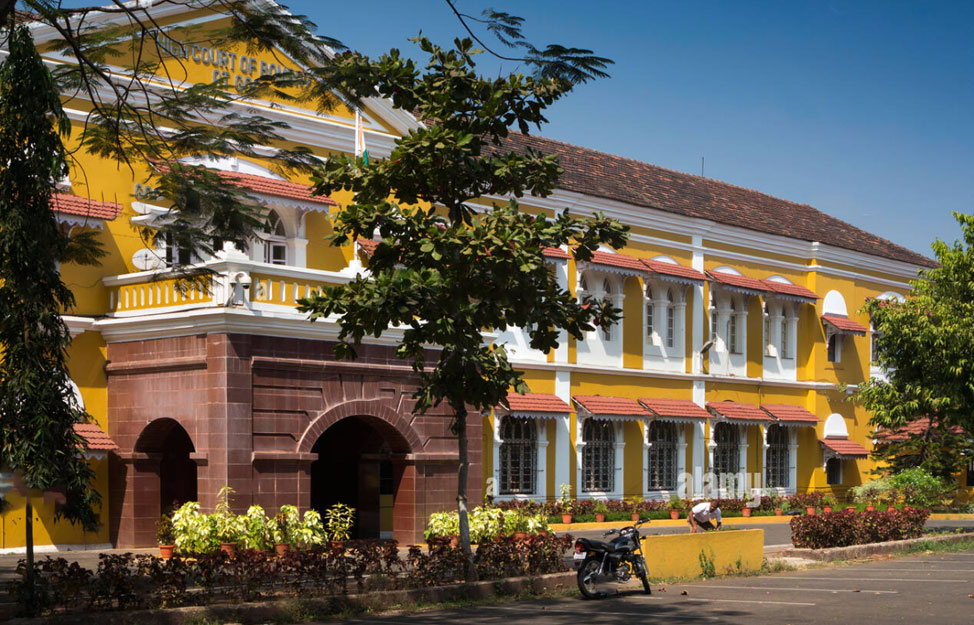 Located in Panjim, Fontaine, also known as the Latin Quarter of Goa, is surrounded by an ancient creek called Orem Creek in the east and Altinho hills with waterfalls in the west. Many tourists avoid this heritage colony for the spectacular beaches and waves of Goa's coastline, but it's colorful and breathtaking views are worth visiting.
If you are looking for rich and multicolored backdrops in Goa, you must visit the Latin Quarters, where the entire colony is a collection of colorful buildings. No wonder this place has been certified as a UNESCO heritage, the beauty of this place has to be truly captured with your intimate bond. But unlike all the pre-wedding shoot locations in Goa, this place has a very artsy scene, with lovely shops and art galleries.
Basilica of Bom Jesus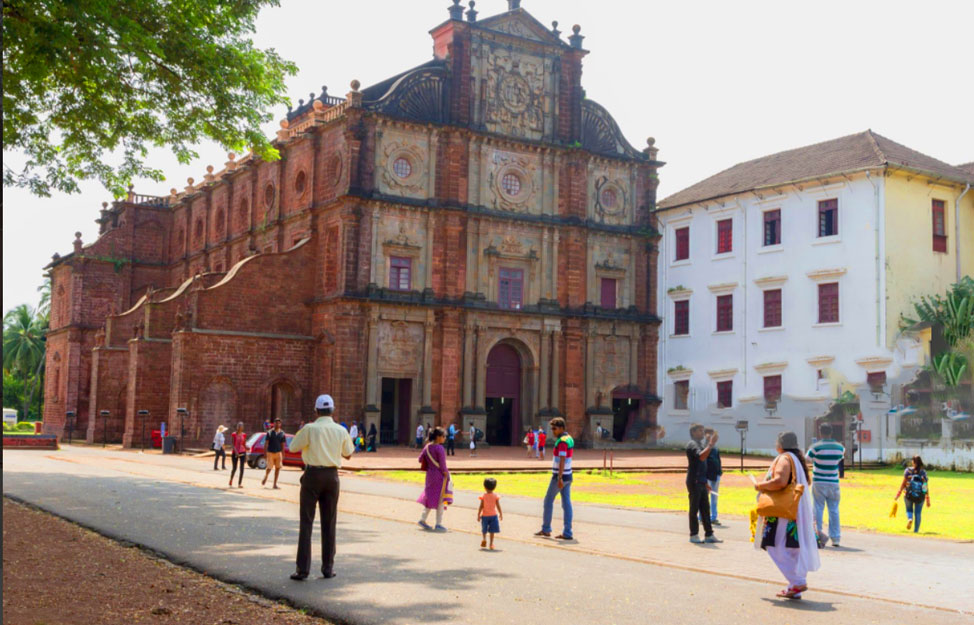 Another destination on our list of pre-wedding shoot locations in Goa is the stunning Basilica of Bom Jesus. Being a UNESCO World Heritage Site, the Basilica of Bom Jesus is an exceptional place for all Christians because of its importance of this Basilica. But if you think about it, the well-maintained buildings and architecture of this Basilica demand an excellent photo shoot. So take note of the well-maintained gardens and white architecture and click-through uniquely!
The Basilica of Bom Jesus Church in Goa was built in 1594 and glorified in 1605. The building of this church overlaps with the beginning of Christianity in India. The church is located at Banguinim in Old Goa, about 10 km from Panjim.
Timings : Monday – Saturday: 09:00 AM – 06:30 PM
Sunday: 10:30 AM – 06:30 PM
Time Required: 1-1.5 hours
Entry Fee: No entry fee
Location: Old Goa