There is magic in the climate and atmosphere of Uttarakhand, which is a boon for producing many delicious fruits here. Everyone likes fruits, and why not because it is not only tasty but also beneficial for health. As doctors also recommend consuming some fruits every day. Uttarakhand is endowed with a pure climate and diversity of environment and offers a wealth of good fruits. Those who like various fruits must try these favorite fruits of Uttarakhand once.
Let's have a look below list.
Khumani
This is a delicious fruit that grows in the hilly part of Uttarakhand. It is known as Apricot in English. It is also used as a dry fruit. It is bright yellow and has a sweet and sour taste. Wide varieties of apricot are found in Uttarakhand. The seed of one of its varieties tastes like nuts when you break it. It has many medicinal uses for the eyes and skin. Many skincare products are made from it. In Uttarakhand, this fleshy and juicy fruit is commonly grown – it contains beta-carotene, iron, potassium, and antioxidants and is thus a healthy choice.
Pulam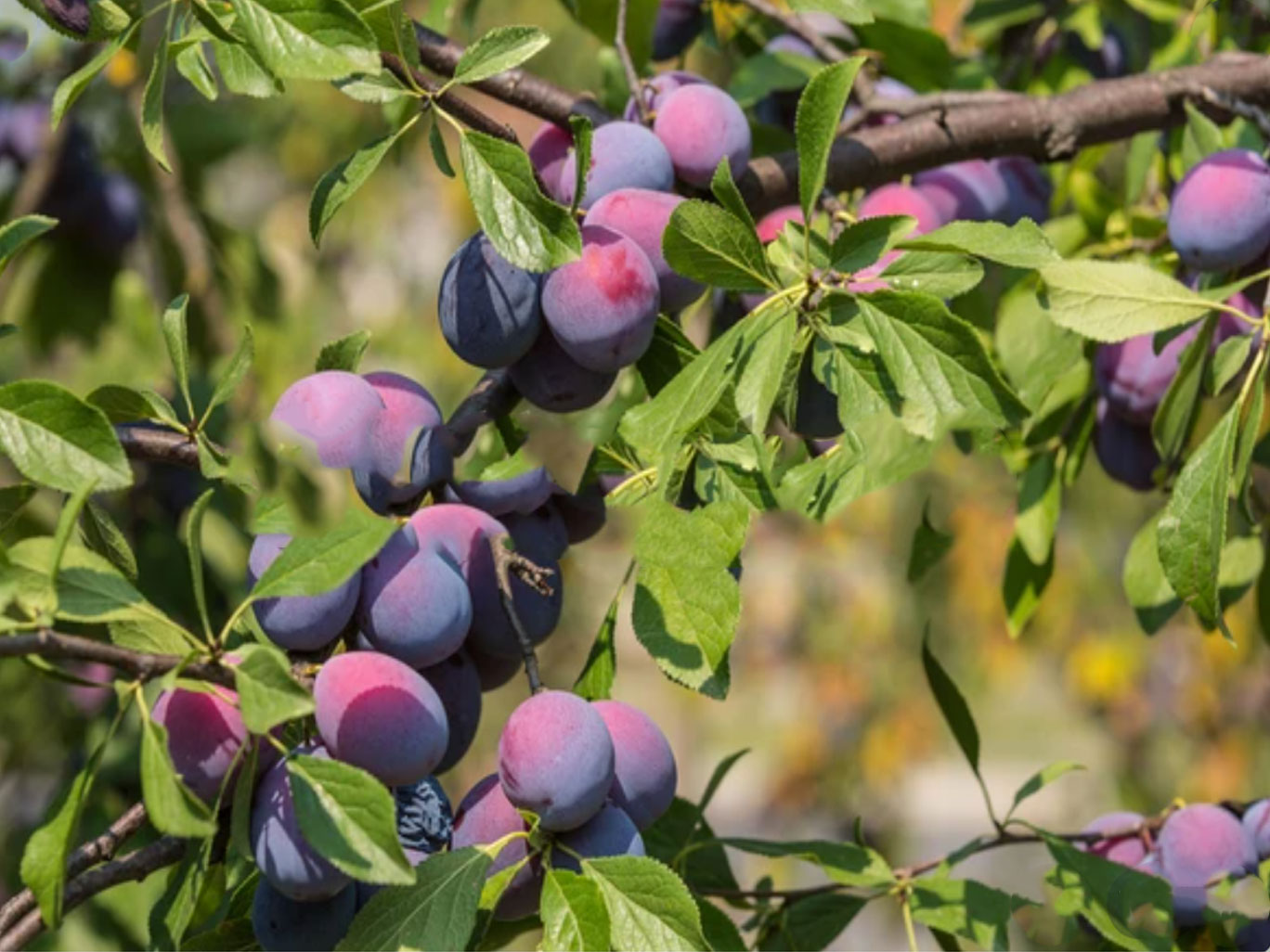 Pulam is called Plum in English. It is a small fruit of dark red color that grows in hilly areas. It is sour and slightly sweet and is used to make jellies and jams. Ripen from May to September. You can buy it from any roadside fruit vendor like Bhowali, Nainital, Almora, etc. These are very juicy fruits.
Kafal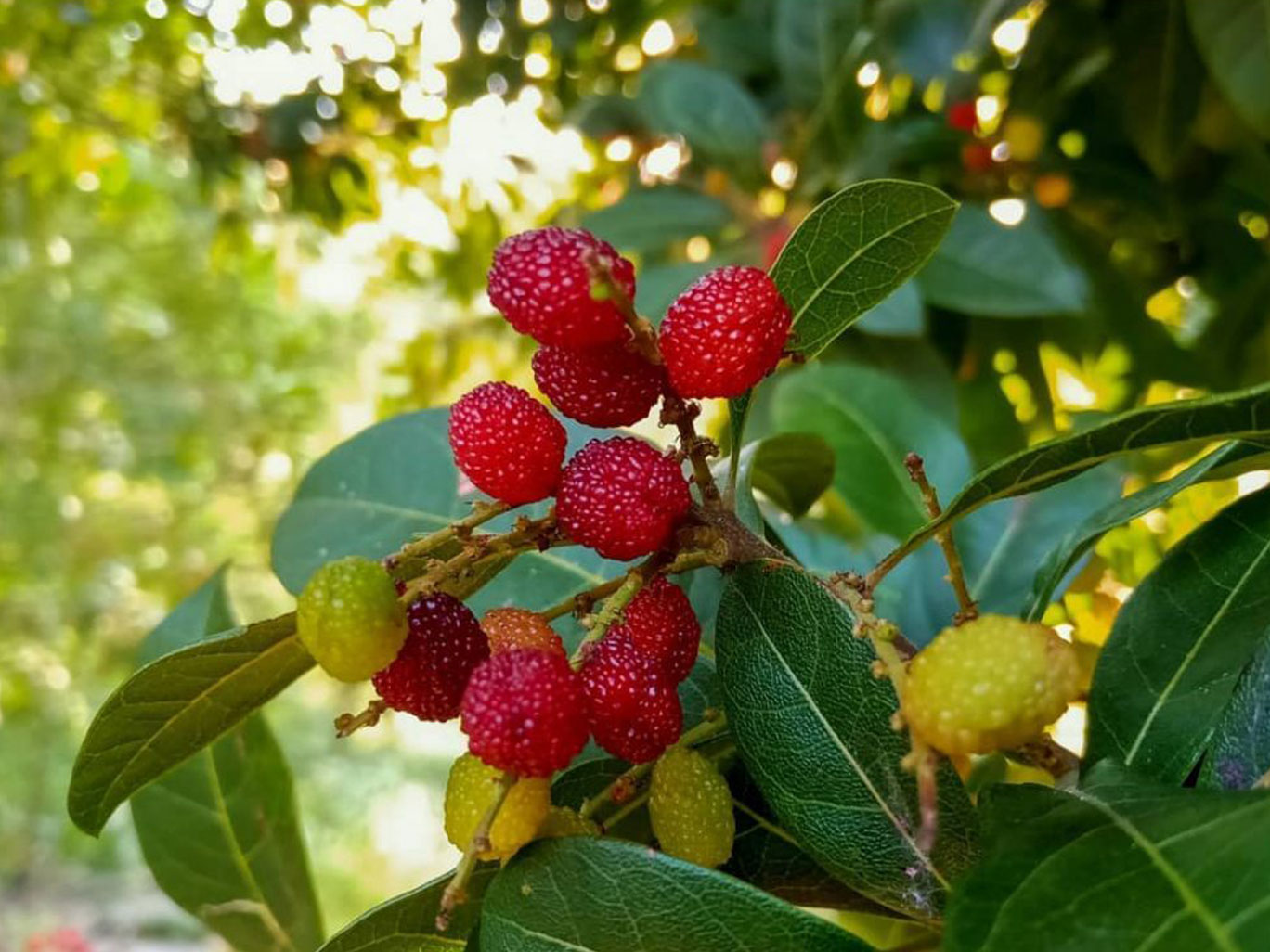 Kafal is the state fruit of Uttarakhand. It is the most famous fruit of Uttarakhand. It is generally grown in hilly areas where the climate is cool. It is sweet and sour. It is eaten with ground Noor (salt). Its color varies from red to green, and the ripening is deep red. The region of Kumaon is mainly known for this fruit. Some areas like Almora, Ranikhet, Bhowali, and Nainital are famous for Kafal. In the local Kumaoni dialect, this fruit is called Kafo. It ripens in April and can be enjoyed only till May.
Aadoo /Aaru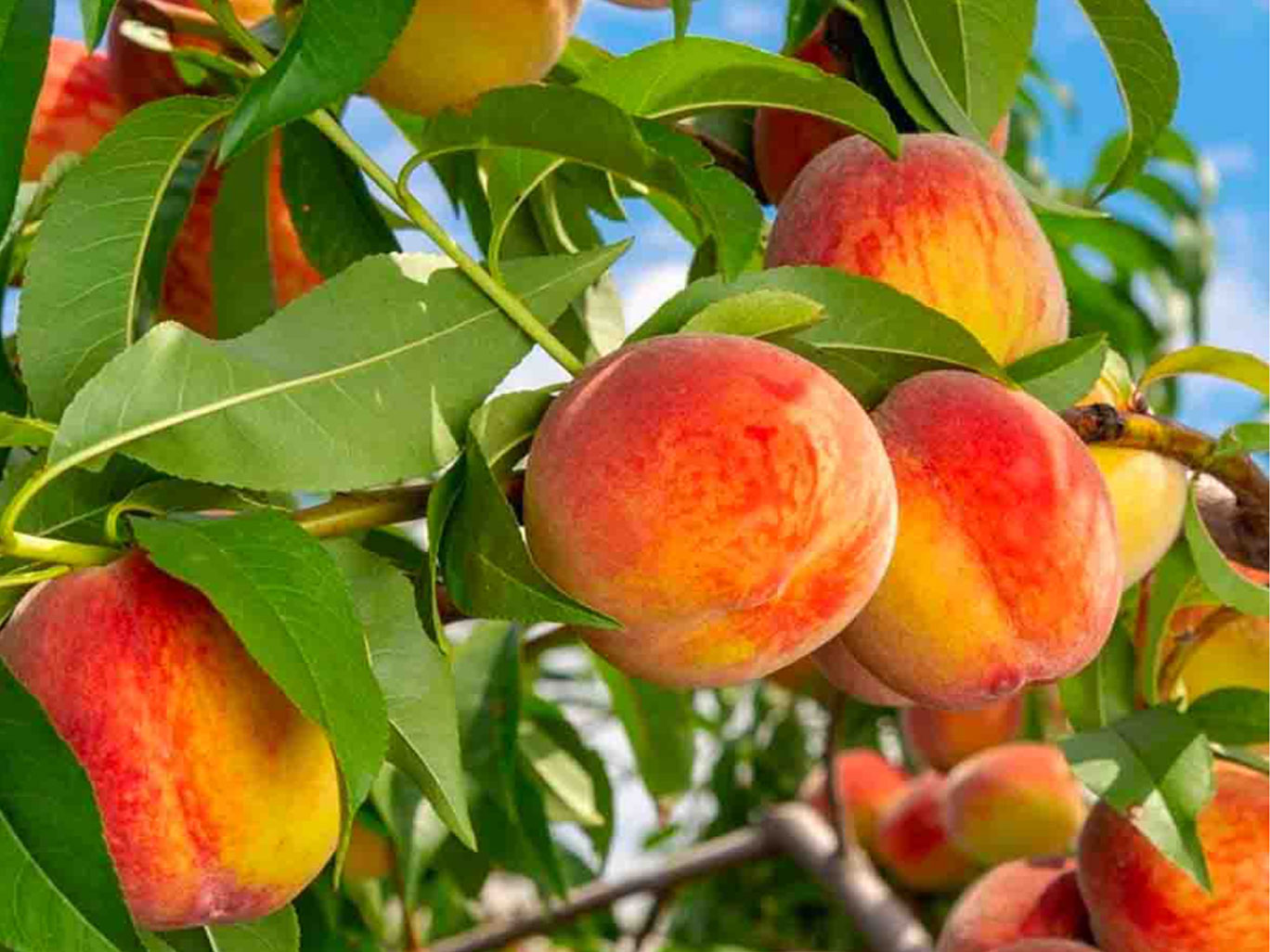 Aaru is also a popular and delicious fruit of Uttarakhand. It is dear to all. Their outer part is like apricot but bigger. Their color is dark yellow. Its taste is sweet and sour. They are known as a peach in English and are very popular all over India. It is suitable for our skin. It ripens in the summer season. Aadoo or Aaru belongs to the rose family and holds a rich amount of Vitamin A.
Dadim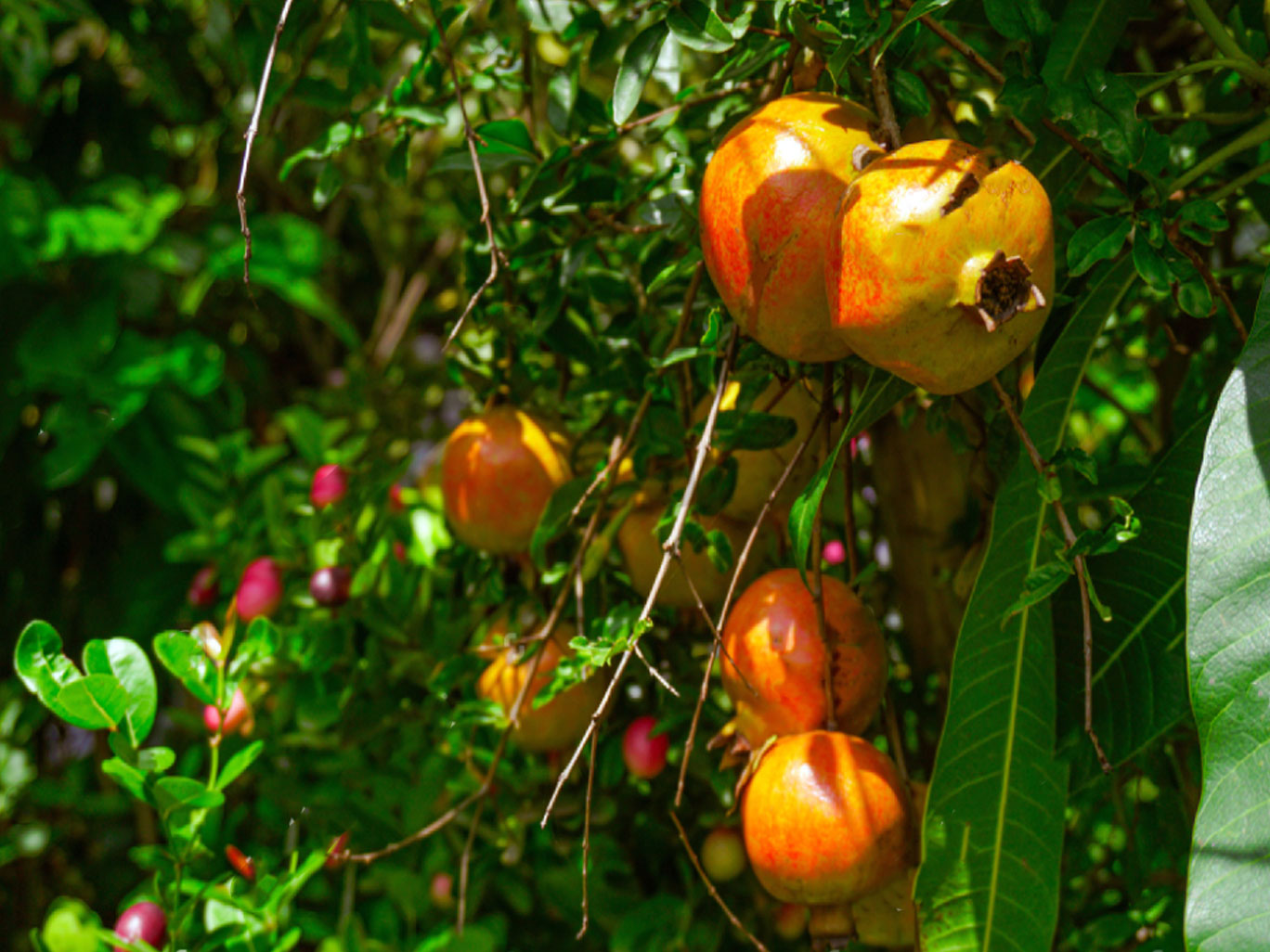 It is the cheapest fruit in Uttarakhand and belongs to the family of pomegranates. It is almost similar to pomegranate except in size and taste. Dadim is small in size and tastes identical to sour and sweet. Dadim is about 40% the size of a pomegranate. A well-ripened pomegranate tastes sweet and slightly sour, but dadim tastes both tart and sweet in equal proportions.
A well-ripened dadim has a reddish color and a remarkable flavor that makes this fruit better than a pomegranate. If you have ever tasted Dadim, I am sure it will be your favorite fruit.
Kirmode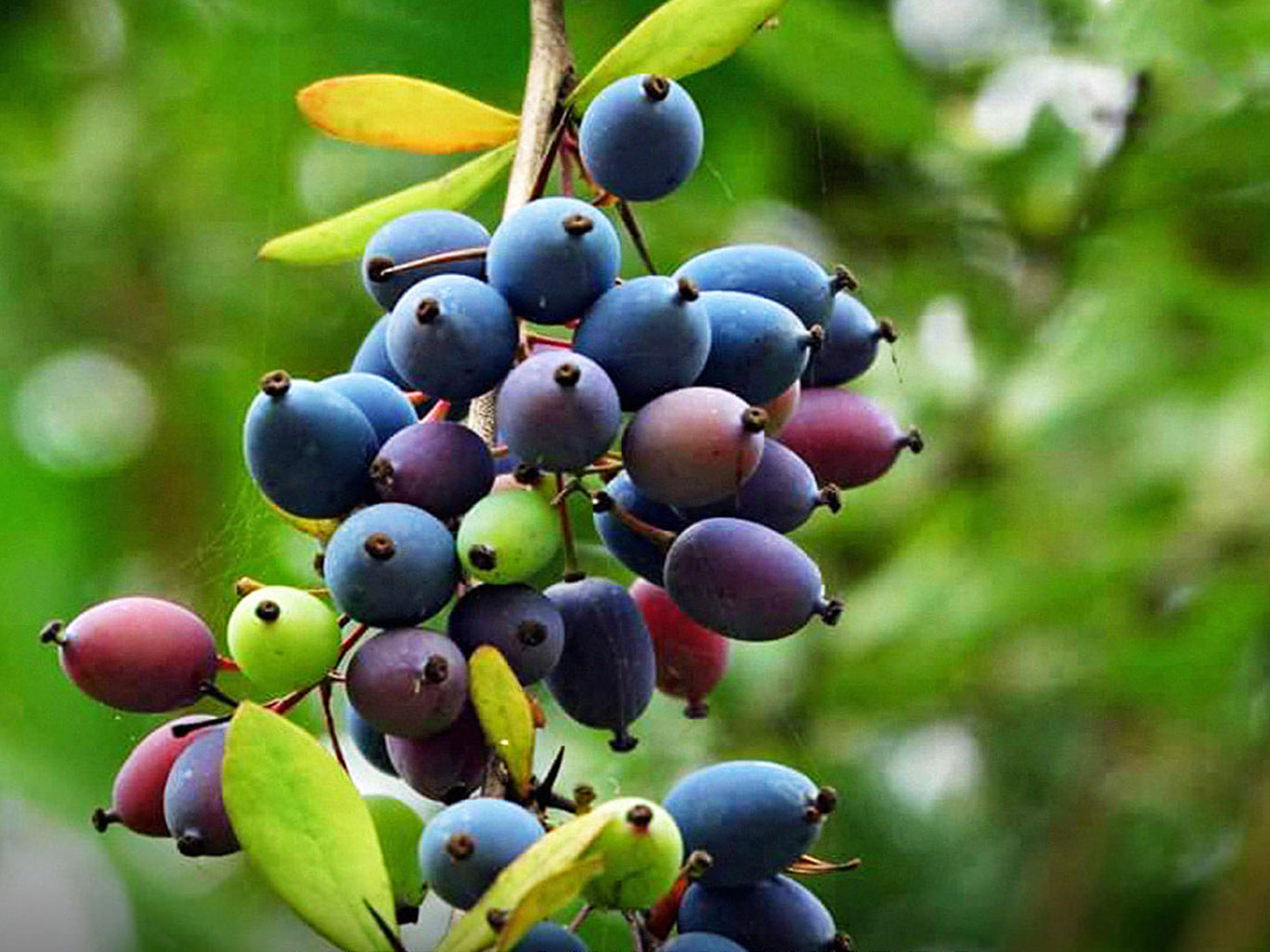 Kirmore is also a wild fruit in Uttarakhand, which has many medicinal properties. Its roots are used to cure diabetes. It is dark purple and can turn your mount purple when you eat it. It grows in shrubs and can be easily found anywhere in Uttarakhand, especially in the forest area. It is highly needed due to its medicinal properties and is exported all over India. Its plant has thorns, so be careful while plucking it. It is sour and different from others.
Hisalu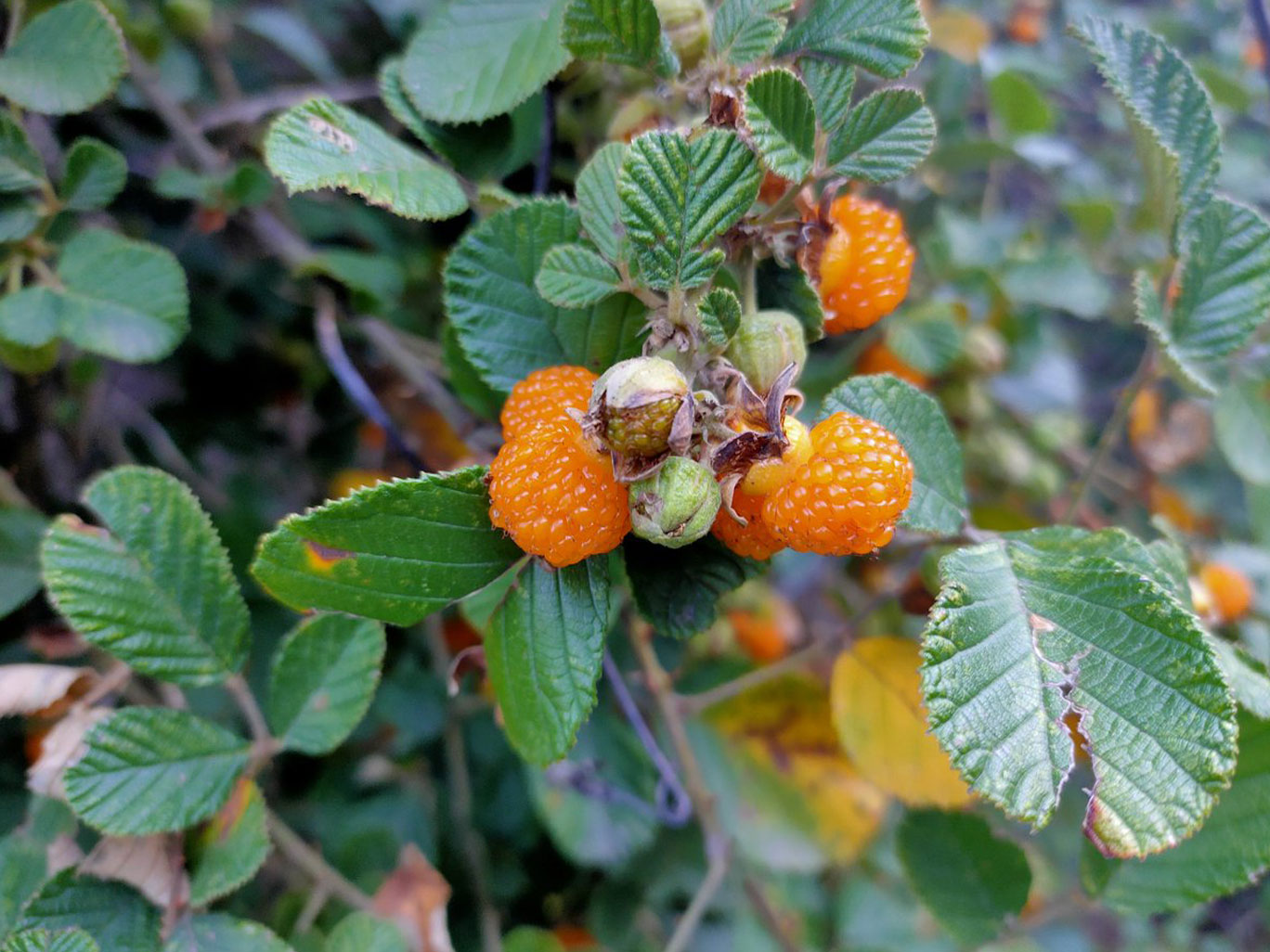 Hisalu is a wild fruit native to Uttarakhand. It is sweet and sour like a kafal. It is usually yellow, but one variety is black. It is pretty popular among the regional people. This pale yellow-colored fruit is abundant in both Kumaon and Garhwal regions and tastes incredibly sweet! It ripens in May and lasts till the end of July. It is primarily accessible in and around Nainital, Bhimtal, and Almora and can be bought from roadside stalls from fruit vendors. Eating large amounts of Hisalu can cause diarrhea.
Bedu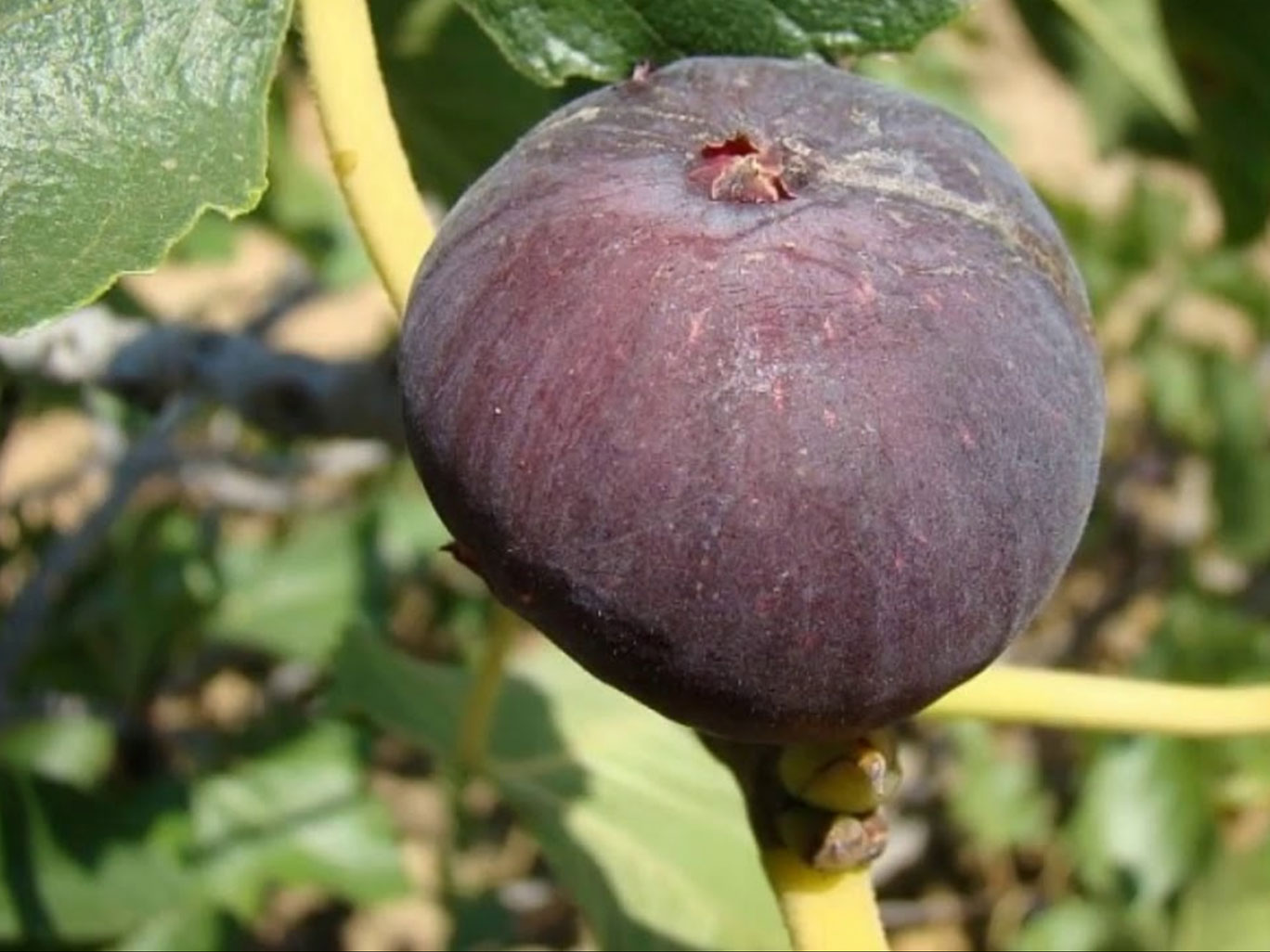 Bedu is also a popular fruit in Uttarakhand. It is known as Anjeer in Hindi. It is dark purple and has a small size. Its taste is average and not liked by many, but it has many medicinal uses. It has the power to cure piles of any stage. It ripens every month of the year. It also belongs to the fig family and grows in the tree.
Timil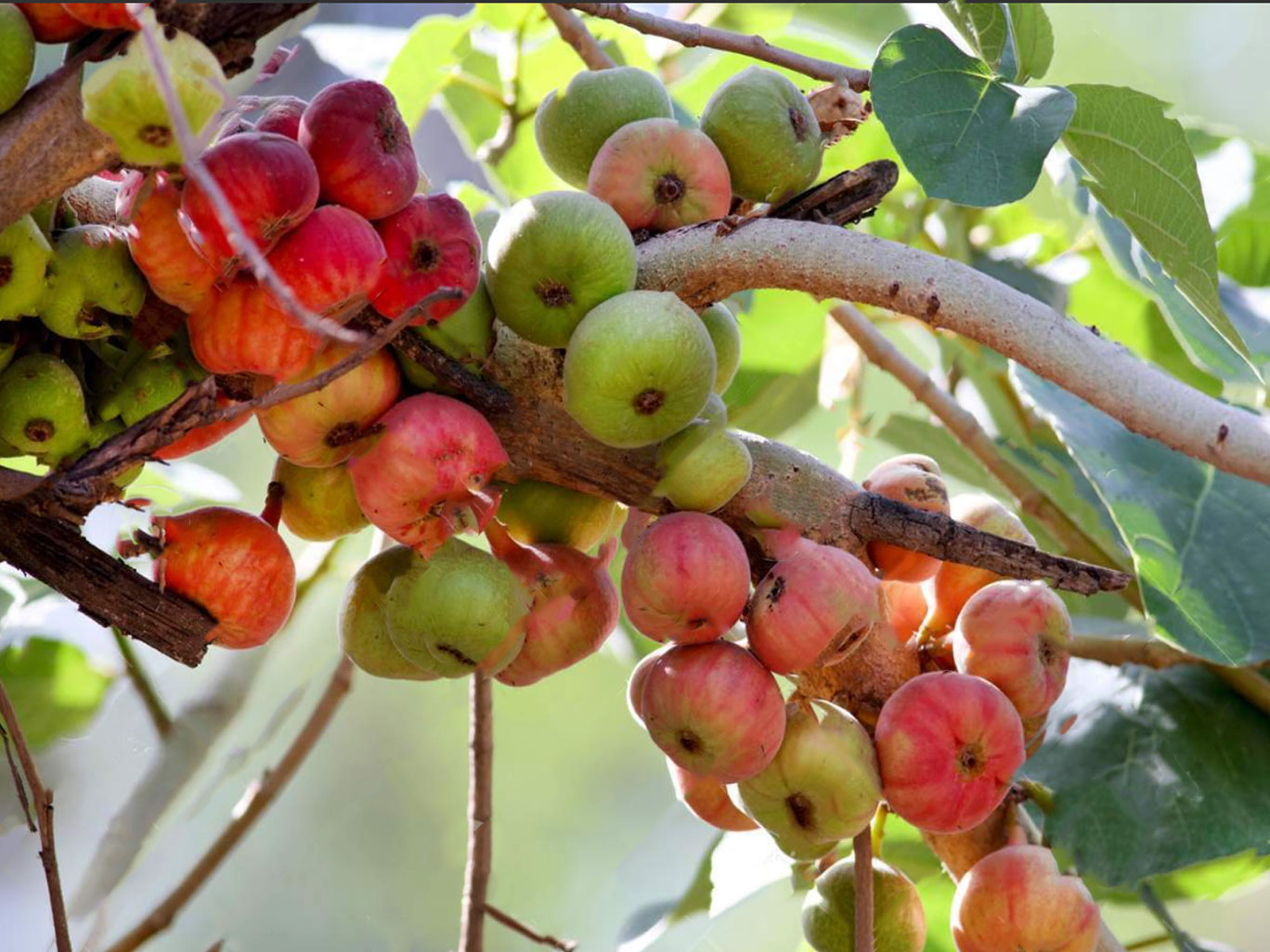 Timil is a Uttarakhandi fruit grown in a tree. It is sweet, and a honey-like substance is released when the fruit is fully ripe. Its color varies from green to red and refers to the fig family. Yet the leaves themselves are more essential than the fruit. Timil leaves are used in almost all ceremonies and religious activities of Hindus.
Timils can be used to replace plastics as they are durable and have good holding capacity. Uttarakhand uses these as plates. In hilly areas, food and prasad are distributed among these leaves.
Malta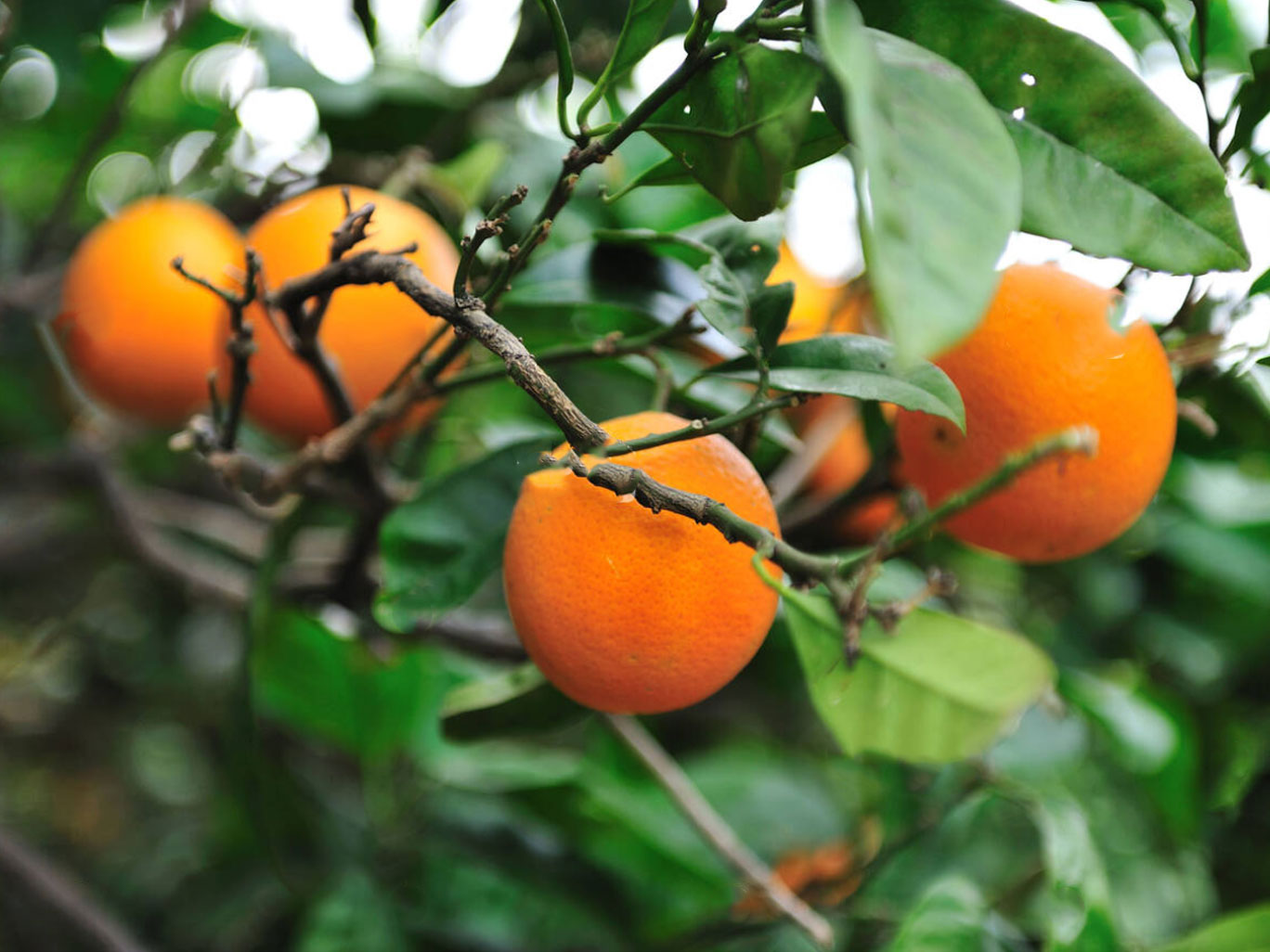 Malta is a mouthwatering fruit that grows in the hilly regions of Uttarakhand, where the temperature is subordinate. It is like orange but more sweet and sour than orange. It is a juicy fruit and contains vitamin C, which is good for the skin and eyes. It ripens in the winter season and comes under the category of citrus fruits. It boosts our immune system. It also has a commercial use. Many people in Uttarakhand export it all over Uttarakhand.
Jhingaru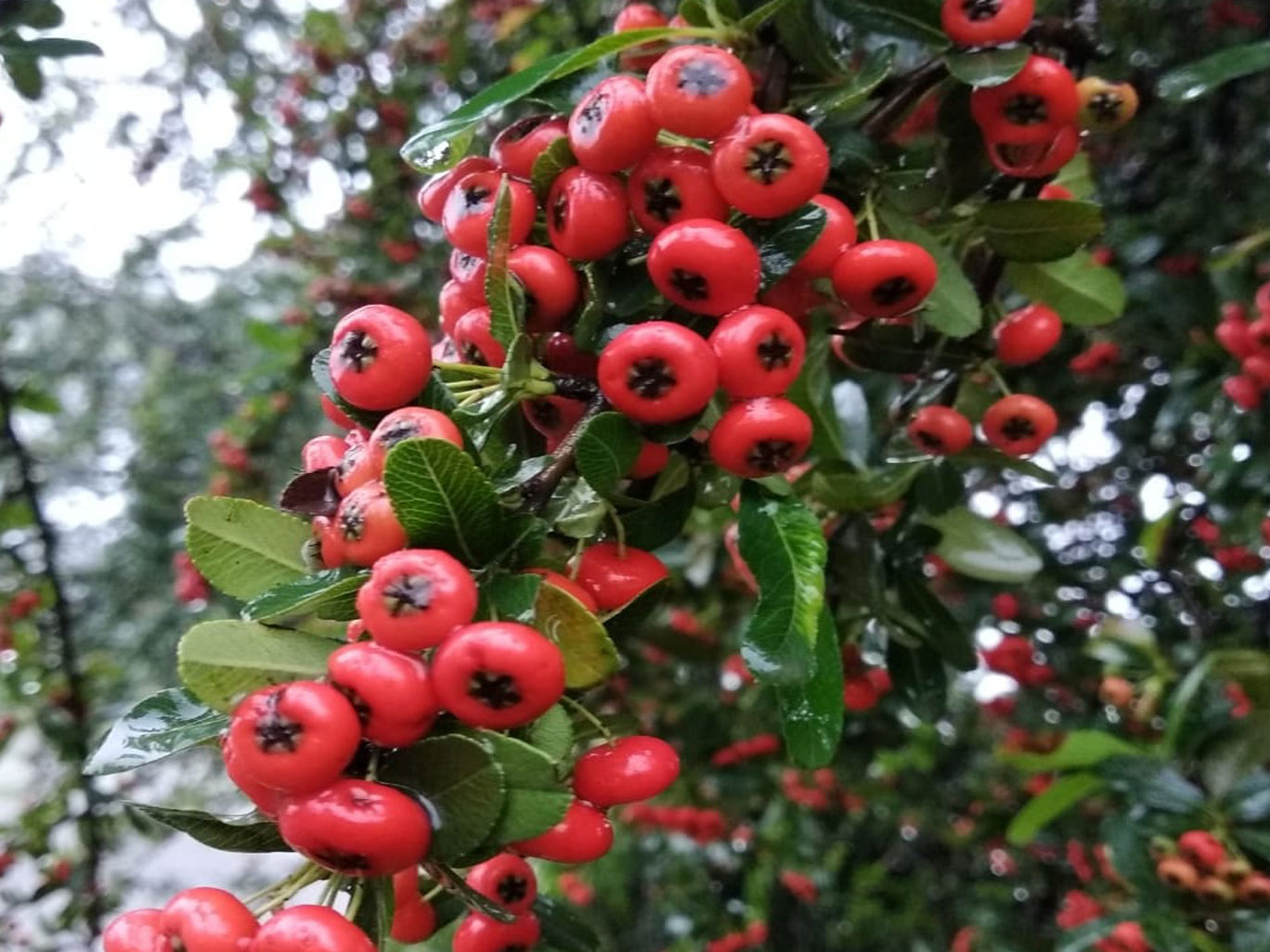 Ghingura is a wild fruit and has a thorny plant. Its English name is Pyracantha crenulata. It has many medicinal uses such as – It used for heart failure, myocardial insufficiency, tachycardia paroxysmal, hypertension, arteriosclerosis, and Burger's disease. Among these are attributed cardio-tonic, coronary vasodilator, and hypotensive characteristics. It May contain antioxidants that help lower blood pressure and cholesterol.
Although it cannot be placed in the proper fruit category, it gets the fruit category because of its importance to the inhabitants of the hilly region. All the people living in the hilly areas of Uttarakhand must have tasted it mostly during their childhood days.