What comes to your mind when you hear the word 'Uttarakhand'? Our mind starts picturing a yogi, evening aarti, the beautiful Himalayan range, lush green forests, and wild animals. Uttarakhand is known for its natural surroundings and yoga culture. It is in the Northern part of India and is basically known for its pilgrimage sites. Hindus head to Haridwar to consign the remnants of their beloved. The ashes are immersed in the holy river, Ganga. The evening aarti at Rishikesh is a treat for sore eyes!
The piping hot Momos in Mussoorie's Kalsang Restaurant can bring memories of childhood. Additionally, the famous Savoy Hotel has been transformed into a 5-star property. It is believed that a lady ghost prances around the lobby every night. There is so much to see and do in Uttarakhand! Since monsoon is about to set in, it is time to pack your bags and head to the lovely cities in Uttarakhand.
Travelers visit Uttarakhand to take a break from their busy life. Most importantly, the temperature is lower in some of the hill stations in Uttarakhand. Patrons can enjoy a rafting trip, watch the evening aarti and even witness wildlife from close proximity.
Here's a quick list of the top destinations in Uttarakhand to Visit in Monsoon! Take a look at the list and make your plans accordingly. Let's get started!
Rishikesh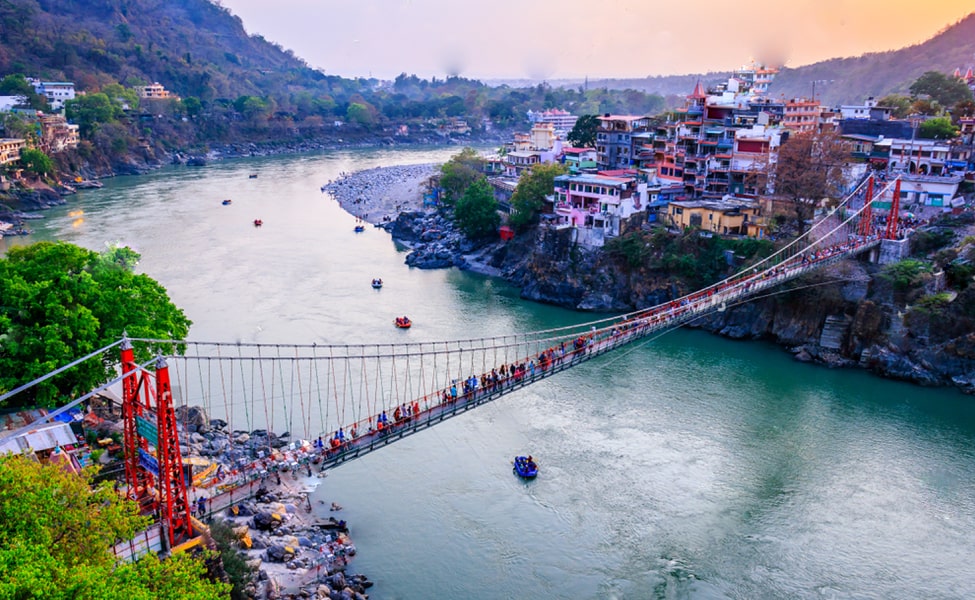 Located beside the holy river, Rishikesh has several temples and ashrams. Foreigners come to the city to study yoga, meditation, and even relax in the lap of nature. The city of Rishikesh is best known for the adventure activities it offers. However, most adventure activities like river rafting, cliff jumping and bungee jumping are closed during Monsoon due to safety reasons.
Nevertheless, Rishikesh has much more to offer and fulfill your soul. Despite adventure activities being closed, you can relish the greenery of the foothills of the Himalayas, and visit the decades-old temples, each whispering a different story.
Rishikesh is not just about the adrenaline rush, it's about peace too. Rishikesh is also about the tranquil mornings and hushed sounds of Ganga flowing near your camp. There are many luxury camps open during the monsoon that provide you with a lavish camping experience. You also get to visit nearby villages and savor the simplicity of life there and the exquisiteness of the surroundings. These camps also offer some alluring waterfall treks for both amateur and experienced trekkers. Also, you can avail of some facilities for rain dance and music to fully enjoy your weekend.
Still, you are still craving some kind of adventure, some rope-based activities like the zip line and reverse bungee open during monsoon.
Patrons can live in tents near the Ganga river and indulge in activities such as beach balls, camping, and bonfire. The best time to visit Rishikesh for rafting is in the month of September and October. You can also visit the destination in the month of April and May.
June is a very hot month and it is best to skip the idea of going here. However, July will be a pleasant month to explore the nearby cities and witness the evening aarti. When you are in Rishikesh, you must visit the following places:
Ram Jhula
Triveni Ghat
Lakshman Jhula
Parmarth Niketan Ashram
Tapovan
Tapovan has amazing resorts for staying. You can even get a massage done by experts. Rishikesh is also known for its yoga culture which means you can join yoga classes. Most of the resorts in Tapovan offer yoga sessions and massages. Don't forget to experience these in the city!
Distance:
From Delhi – 240 km
From Dehradun – 45 km
Things to do in Rishikesh
River rafting, bungee jumping, camping, bonfire, trekking, flying fox, cliff jumping, body surfing, rock climbing, kayaking, mountain biking, massage, yoga, and relaxation.
Lansdowne
Lansdowne is a humble town in Uttarakhand. It is not filled with tourists and does not have fancy properties. However, the town is surrounded by blue pine forests and thick oak trees. The untouched nature fills up your senses. Travelers can relax in this area as it is truly blissful and quiet.
Located in the Garhwal district, Lansdowne has a few interesting things to do that will keep you on your toes. Here's a quick list!
Garhwal Regiment Museum
St Mary Church
Santoshi Mata Mandir
Bhulla Lake
If you wish to take a break from the city noise and pollution, head to Lansdowne because this is truly beautiful. There is no doubt that Uttarakhand has some amazing hill stations but this is one of the cleanest ones. Witness the snow-capped peaks and breathe fresh air. A walk towards Tip-n-Top can be a fun thing to do! Honeymooners can see the Shivalik Range from this spot.
Secondly, Lansdowne is known for its leather products. You can buy rugged leather boots and pose in style! Hiking is another activity that is enjoyable. You can watch the birds and the peaks! This is the ideal destination for nature photography.
Distance
Delhi to Lansdowne – 270 KM
Jim Corbett National Park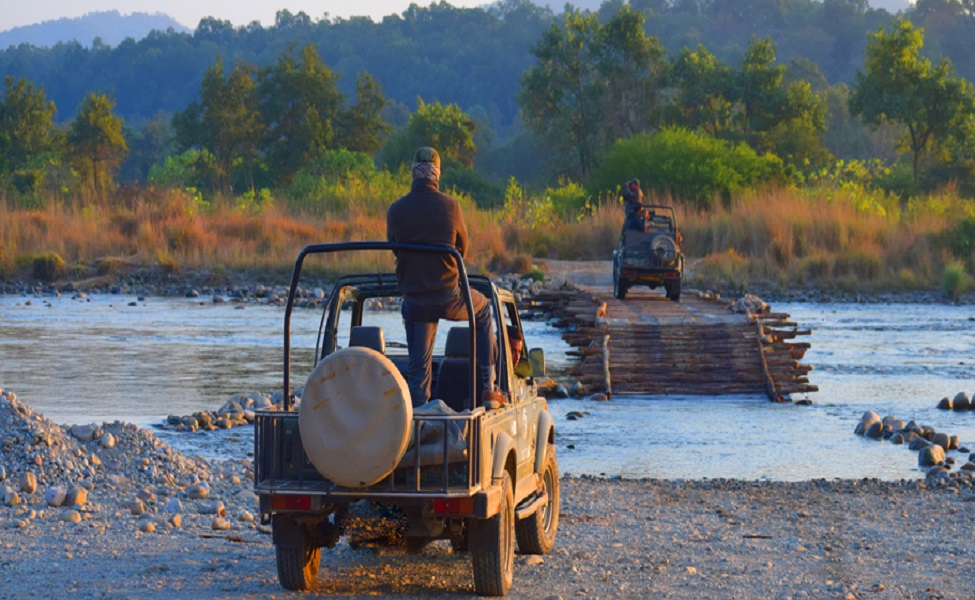 The Bollywood movies show a scary side of Jim Corbett, but the destination is perfect for nature lovers. The movies are misleading because Corbett is an ideal spot for anyone who enjoys witnessing wildlife and being close to nature. Jim Corbett National Park is the home to several animals! However, Jeep Safari is not open during the monsoon due to all the jungle routes being flooded by heavy rain.
Then why is it worth going there in the monsoon?
When it comes to luxury, there are 4-star and 5-star properties in the area. Most of them are pet-friendly resorts. Even budget travelers can find decent hotels in the region. Most of the hotels and resorts have a swimming pool, multi-cuisine restaurant, and lush green trees.
Corbett has a lot more to offer other than its diversity of fauna. There are lavish resorts in the midst of greenery that you will not experience elsewhere. The resorts encompass a swimming pool, wildlife movie shows, indoor and outdoor games, and some really exciting, rope-based adventure activities. Often people miss these activities when they are here to mainly witness the tigers, so monsoon can be the best time of the year when you can actually enjoy other aspects of the Jungle.
Also, you can visit Garjiya Temple and Jim Corbett Museum and enjoy the greenery walking down the narrow lanes of the Himalayas.
When in Corbett, you can visit the following tourist spots-
Garjiya Temple
Sitabani wildlife reserve
Corbett Falls
Bijrani Zone
Distance
Delhi to Jim Corbett – 244.6 KM
Ram Nagar to Jim Corbett – 1.2 KM
Sattal
Sattal is located near Bhimtal. As the name suggests, there are 'Saat Taals' in this area. Saat Taals refer to the seven freshwater lakes. During the days of the British Raj, this area was used for tea plantations. It is a treat for sore eyes because you get to witness the 7 lakes in the region.
Explore the pinewood and oak forests in Sattal. Travelers will be mesmerized by the greenish water and the sound of chirping birds. If you wish to have a relaxing trip and watch the butterflies flutter their wings, this is the destination you should choose.
Things to do in Sattal
Visit Subhash Dhara
Trekking in Sat Tal
Visit the seven freshwater lakes
Explore Bhimtal
Visit the butterfly museum
Indulge in fishing in Sattal
These were the interesting activities that you can do in Sattal. The butterfly museum, trek, visiting the Subhash Dhara, and fishing are popular things to do in this area.
Distance
Delhi to Sattal – 310 km
Nainital to Sattal – 45 km
Mukteshwar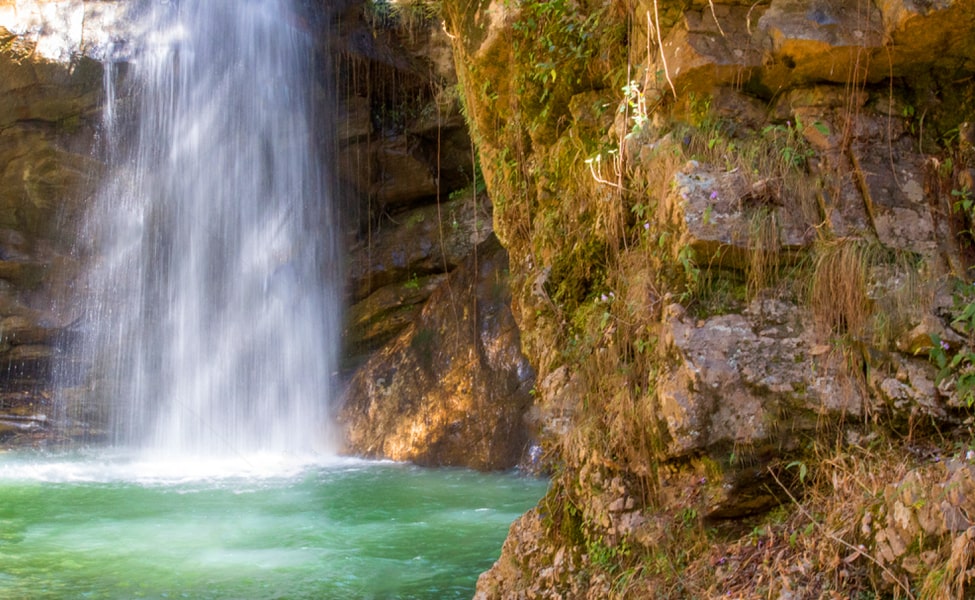 Mukteshwar is a town in Nainital District that is known for its temple. Also known as the 'apple country', Mukteshwar got its name from an ancient temple called Mukteshwar Dham. It is 350 years old and is dedicated to Lord Shiva.
Witness the Himalayan range and visit the apple orchards. You can taste the best apples in the region. It is believed that Lord Shiva put an end to negativity in Mukteshwar. He killed a demon in this town and granted him Mukti.
Since this is a peaceful destination, you will wake up happy and hear the sound of chirping birds. Some of the interesting activities you can indulge in are rock climbing and paragliding. Mukteshwar is ideal for camping and hiking!
Distance
Delhi to Mukteshwar – 383 km
Mussoorie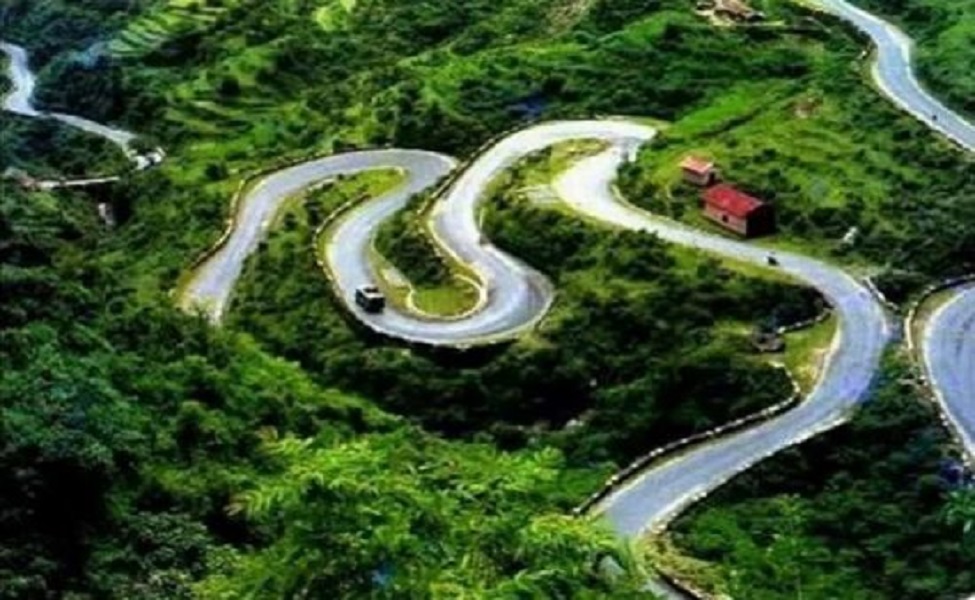 When we talk about hill stations, we can never forget the Queen of Hills. Mussoorie is located 35 km away from Dehradun. There are plenty of things to do at this hill station. Let's not forget that book lovers can steal a moment with the famous Ruskin Bond. He usually spends time in a book store in Mussoorie. If you wish to meet him in person, visit the Cambridge book shop on Mall Road.
Enjoy hot piping momos at Kalsang or any other small momo shop in Mussoorie. Once you are done sightseeing, you can shop at the Mall Road. There is so much to buy here! As for sightseeing, patrons can go to Mussoorie Lake and take a dip in the Kempty waterfall.
Mussoorie Lake is famous for boating and enjoying the scenic view. Gunhill Road is famous for shopping and mountain viewing. Lal Tibba Scenic Point is best for watching the mountains and casually strolling in the area. Overall, you will have a relaxing holiday and there are some amazing resorts here. As we mentioned before, the haunted property has turned into a 5-star property. Even budget travelers will find many options in this region.
Distance
Delhi to Mussoorie – 287 KM
Dehradun to Mussoorie – 34 KM